RobPathRec robot and cobot path programming tool
The longest taking and most ridiculous part of the robot programming is the creation of the path of movements. There are different ways to do this, like teach pendant or demonstration on cobots but to be honest, all of them have big drawbacks.
With the RobPathRec robot programming tool you get a universal programming tool to record and generate path for the device. You do this easily with the RobPathRec Teach Pen. The post-processing of the generated track can occur directly in RoboDK or you might export the robot-specific program and do the post-processing in the manufacturer's software environment.
Robot programming on an improved way
The RobPathRec App is NOT A NO-CODE programming solution.
The RobPathRec solution speeds up the robot programming with fast and precise path recording, which can be easily post-processed and prepared for robot.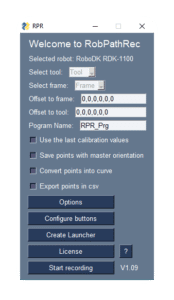 Minimum requirements
The RobPathRec App has the following minimum requirements:
Processor: Intel Core i5-4590/AMD FX 8350 equivalent or better. Dual Core CPU with Hyper-Threading.

Memory: 4 GB RAM

Graphics: Nvidia GeForce GTX 970 / AMD Radeon R9 290 equivalent or better. OpenGL3 or better must be supported
DirectX11 compatible graphics card – we recommend to use a dedicated graphics card for better performance.

At least 6GB of free space on drive C:\ (cannot be installed to other drives)

OS: Windows 10. ATTENTION: Win 11 is not supported yet!
RoboDK: 5.3.2.0 or newer installed to C:\RoboDK
Internet connection for activating and validating the license
1x USB 2.0
Delivery
After purchasing the app you can download the automated installer as a zip file from your account. There you will find a User Manual as well, explaining the features. The User manual is the property of RobPathRec (Richter Automation Deggendorf GmbH) and cannot be distributed in any form without written permission.
For further information, please see our sections: Support
Installation notes
You will be able to download a zip archive. Please unzip the file and you can run the automated installer automatically. Then please follow the