RoboDK with professional license – Industrial robot and cobot simulation and offline programming software
Advantage of RoboDK
RoboDK offers a whole range of robot programming features and you can create the programs outside the production environment. You will not block and occupy manufacturing capacity during you can generate and optimize the workflow of your industrial robots and cobots.
There is a wide range of manufacturers and devices, they are supported by RoboDK. To see the latest list of  the supported devices, please check the list.
RoboDK supports more than 50 different robot manufacturers, including the following robot brands.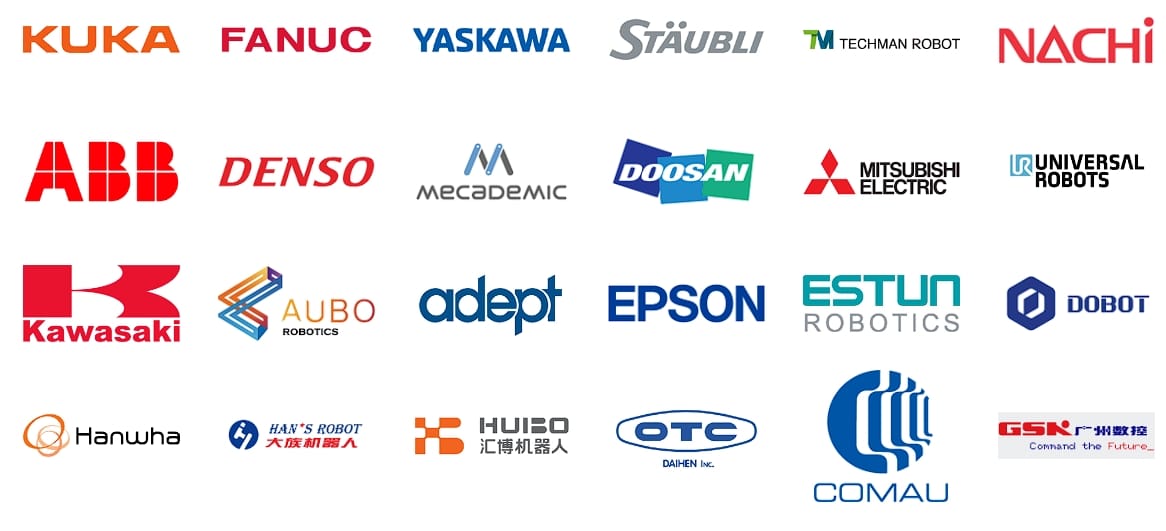 The biggest advantage of RoboDK is still the free usage of scripts, with which you can automate many tasks and improve your productivity at automation.
Why to buy RoboDK at RobPathRec?
We understand that each challenge you are facing is individual. Therefore, we offer individual solutions. If you are not sure about the conditions or you want to try RoboDK, please contact us.
What do you get with this RoboDK Professional license?
This is a permanent license with 1 year maintenance included. Optional maintenence after the first year can be purchased separate directly at RoboDK.
Included features
All Simulation and Offline Programming features
Robot machining (use any CAM software)
3D printing (use any Slicer software)
Unlimited access to the robot library
Unlimited program generation
Multiple robot simulation
Access to robot drivers
Support for turntable and linear rail
Synchronize up to 12 axes for manufacturing operations
Minimum requirements
Operating System: Windows Vista, Windows 7, Windows 8 and Windows 10 (32-bit or 64-bit version), Mac OS (64 bit), Ubuntu 16 or Ubuntu 18 (64 bit).
Memory: 2 GB minimum. Recommended 4 GB or more.
Graphics Configuration: A minimum 1024×768 pixel resolution display. The graphics driver should support OpenGL 3.0 or later. Graphics cards with hardware accelerated OpenGL including internal memory are recommended.
Hard Disk Drive Space: 40 GB, 1 GB free.
Mouse: 2-button (minimum), 3-button or 2-button with middle mouse wheel is recommended.
Internet: Internet connection to activate Network licenses (default licenses). Firewalls should not block ports 80 & 443 (Network licenses only). Alternatively, we can provide a USB dongle.
Delivery
You can buy the license at RobPathRec. The actual software you can download at RoboDK directly following the RoboDK Download Link.
After a complete payment (booking) we will send you manually your license and the download link.
Please note: processing of RoboDK orders and delivery happens only on Monday – Friday, however you can place your order any time in the shop. The processing time after completing the payment (booking) can take up to 48 hours.